Lawn Care Services
We take care of outdoor lawn, yard, or commercial property needs in the Hickory, North Carolina area including mowing, trimming, mulching, landscaping, yard debris removal, gutter cleaning, routine maintenance and other property maintenance services.
Our team is ready to stand by your side in everything needed to keep you and your neighbors happy with your outdoor landscape.  Don't keep your yard on the "to-do list" when we make so affordable and simple to stay on top all your residential landscaping needs.
Tree, Bush & Shrub Trimming
Seeding, Fertilizing & Aeration
Tree, Bush & Shrub Removal
Maintenance Plans Available
All Residential Services Available
Commercial, Rental & Dorm Properies
Weekly - Seasonal Plans Available
Tree, Bush & Shrub Trimming
When you choose our team to help with your commercial, rental or dorm property, you get peace of mind & unbeatable rates.  Simply tell us how things need to be and we will take care of the rest so you can focus on other business needs.
Why choose Wrenn's Lawn Service?
Expertise & Experience
When you partner with us, you gain access to a team of seasoned experts. We understand the intricacies of North Carolina's unique climate, soil types, and native flora. With years of experience under our belts, we have the knowledge to make your landscape thrive year-round.
Tailored Plant Selection
North Carolina's diverse landscape demands careful plant selection. Our professionals will meticulously select plants, trees, and shrubs that are ideally suited to your property's location, ensuring they flourish and reducing your maintenance workload.
Seasonal Maintenance
We take the guesswork out of seasonal care. Our team will handle all the necessary tasks, such as pruning, fertilizing, and mulching, to keep your landscape in impeccable shape throughout the year. We're also prepared for extreme weather events, safeguarding your property.
Efficient Irrigation
Water conservation is a priority. Our experts will design and maintain an irrigation system that maximizes efficiency, minimizing water waste while delivering the perfect amount of moisture to your plants, ultimately saving you money on water bills.
Pest & Disease Management
North Carolina's climate can attract unwanted pests and diseases. We'll keep a watchful eye on your landscape and implement preventative measures to protect your investment, ensuring your greenery stays vibrant and healthy.
Enhanced Aesthetic Appeal
First impressions matter, and we understand the value of curb appeal. Our skilled professionals will craft a visually stunning outdoor space that not only beautifies your property but also boosts its overall value.
Time & Stress Savings
Landscaping can be time-consuming and physically demanding. By entrusting us with your property's maintenance, you can reclaim your valuable time and enjoy your outdoor space without the stress of ongoing upkeep.
Cost-Effective Solutions
Our expertise doesn't just enhance your landscape; it also saves you money in the long run. We prevent costly landscaping mistakes, reduce resource consumption, and extend the life of your outdoor features.
Compliance with Regulations
We're well-versed in local regulations governing landscaping practices. We'll ensure that your property complies with requirements such as erosion control and native plant conservation, saving you potential legal headaches.
Safety & Peace of Mind
Your safety is paramount. Our professionals are trained to operate equipment safely and are vigilant about potential hazards in your landscape, reducing the risk of accidents and injuries on your property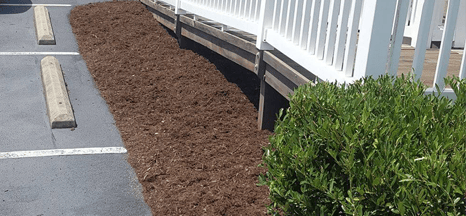 Our Work
Don't just guess that you're going to enjoy our lawn care services, view our gallery and see some of the work we have already done in the Hickory, North Carolina area.